AGRICULTURAL COUNSELORS FORUM
Background
The Agricultural Counselors Forum (ACF) is an informal, voluntary group established in Washington, DC for the purpose of improving communication and understanding within the diplomatic corps on agricultural and "food systems" issues. The group is comprised of agricultural attaches and other professionals interested in sharing information, particularly (but not exclusively) regarding U.S. agriculture and related legislation/regulation.
Formed in the 1970s, the ACF has acted informally to provide the agricultural counselors with their own specialized platform on these issues. The primary activity is a quarterly luncheon at which speakers from the legislative and executive branches of government, as well as from the private sector, present ideas and enable the participants to ask questions. Occasionally, trips to agricultural functions in the U.S. heartland are organized to provide a better grasp of the fundamentals facing U.S. agriculture.
Aims/Objectives
ACF assists agricultural counselors in the following ways:
improves individual understanding of both bilateral and multilateral issues within a broader agricultural dimension;
enhances communication and idea-sharing within the ag-related diplomatic community, thus enabling ag counselors to represent both U.S. and their own country's perspectives more effectively
to their home-based constituencies;
provides a unique channel to the U.S. heartland which offers additional opportunities to communicate and learn from ag practitioners engaged in the daily tasks associated with the modern food system; and
performs a useful service by giving U.S. government and diplomatic officials the chance to meet informally to raise questions, discuss issues, and find solutions.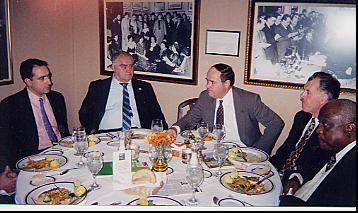 FOCUS ON UKRAINE -- ACF-sponsored luncheons at National Press Club, on Capitol Hill and in leading Washington Hotels draw international leaders into agri-dialogue.


Problem/Need
The U.S. agro-food system is one of the world's largest and most modern economic engines, providing the nation of 230 million with the most plentiful, lowest-cost food in history. It is an enormous and complex system which intersects with virtually all other phases of economic and political life in the countryside - with strong connections to Washington.
For even the most experienced foreign observer, learning to understand what is happening in U.S. agriculture - particularly in relation to legislation at the national level - is a daunting challenge. ACF is designed to facilitate the necessary and ongoing educational experience for agricultural counselors.
Results
ACF produces benefits for members and supporters by increasing interactive programming and two-way information flow between the Washington diplomatic community, the U.S. government, and American agriculture. This is accomplished with cross-sectoral/problem-solving exchanges, luncheons, social functions and special reports. ACF has accelerated awareness and understanding of key issues facing U.S. agriculture and has increased information flow. ACF has also provided participants with new contacts and perspectives from U.S. grassroots decision-makers.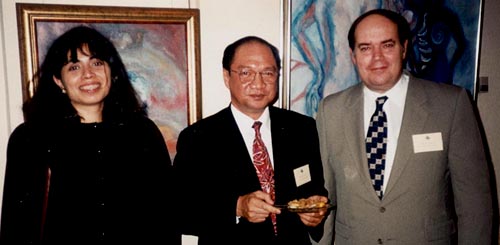 INTERNATIONAL CONTACT -- Naima Mansur of World Bank/GEF, Vic Leviste, agricultural counselor of Philippine Embassy, and Nick Hollis of The Agribusiness Council share a light moment at an ACF program.


Method of Operations
ACF has achieved its aims working informally through various association communication techniques including e-mail newsletters, luncheons, questionnaires, specialized committees, field trips, and interactive programming with state agribusiness councils. ACF acts as an informal educational clearinghouse presenting other countries' agricultural perspectives and assisting link-ups with agricultural specialty groups. For example, a special luncheon was organized at the Capitol under the sponsorship of U.S. Senator Jesse Helms (R-NC) and Representative Charles Stenholm (D-TX).
Beyond the reactivation of ACF's luncheon series in 1995-97, the future direction of activities aims at expanding communication opportunities. The steering committee is contemplating a chatroom feature for the website. ACF participants automatically receive state agribusiness network memoranda dealing with issues such as genetic modification, corporate corruption and international trade. In a post-Seattle/WTO environment, this type of exchange can be useful in reducing costly international economic disputes.
ACF participants automatically receive invitations to Washington-based functions of The Agribusiness Council (ABC) and Agri-Energy Roundtable (AER) which are affiliated, nonprofit/tax-exempt associations involved in agriculture and agribusiness networking. ABC is providing secretariat functions for ACF.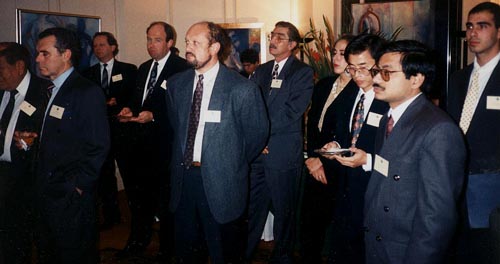 ATTENTIVE COUNSELORS listen as Philippine Ambassador Rabe discusses food security issues at reception honoring ACF. More than 50 embassies have participated in ACF functions, including trade missions and field trips.


Supporters
ACF is supported by voluntary contributions and subscriptions to information services from leading embassies. Several banks and international companies who share ACF's commitment to expanded dialogue and networking with international trade/development issues, have provided support, but are not associated with ACF activities (except listing in ACF publications). ACF has received support from The Agribusiness Council (ABC) and its U.N.-affiliate, Agri-Energy Roundtable (AER). These two organizations have more than fifty-five years of combined experience and activity in trade support activities.


Agricultural Counselors Forum
P.O. Box 5565
Washington DC 20016
Tel: (202) 296-4563
agenergy@aol.com