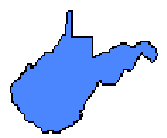 West Virginia Agribusiness Council
WVagbiz@aol.com

WEST VIRGINIA AGRIBUSINESS COUNCIL
Background
The West Virginia Agribusiness Council (WV/ABC) is a nonprofit, voluntary membership association established for the purpose of strengthening the state's agro-food/forestry system. WV/ABC is registered in Charleston with temporary secretariat divided between Morgantown and Clarksburg. The WV/ABC concept was introduced in 1993 by Nicholas E. Hollis during meetings with state, association and WVU officials in Morgantown. The project accelerated in 1995 as Cooperative Extension hosted meetings and helped to develop a database in cooperation with the WV Department of Agriculture.
WV/ABC was finally incorporated in 1997, following meetings around the state, including one with Governor Cecil Underwood in Charleston. It is an independent association modeled after similar counterpart associations in other states, including Virginia and North Carolina. WV/ABC is affiliated with The Agribusiness Council (ABC), a tax-exempt/nonprofit organization with offices in Washington, DC. ABC has been in operation for thirty years since it was set up after a White House meeting between President Lyndon Johnson and food executive Henry Heinz, chairman of Heinz Foods (and ABC's first chairman). Former U.S. Senator Jennings Randolph served as chairman from 1985-1990, and subsequently served as chairman emeritus until his passing in 1998.
Objectives
WV/ABC assists the state's agro-industry and allied sectors by providing a neutral nonpartisan forum for representatives of different parts of the agro-food system to engage in practical problem-solving dialogue, information dissemination on major issues/markets and leading edge technologies impacting West Virginia's agribusiness/forestry and natural resource-based economy (including aquaculture). WV/ABC also improves contacts with counterpart agribusiness associations in other states and abroad, raises the prestige of farmers, and strengthens awareness of "agribusiness perspectives" from a private sector vantage in all fields of ag/food and allied industries. WV/ABC also seeks to improve agro-industry's voice with appropriate government agencies in Charleston and Washington.
Results Expected
WV/ABC will generate benefits for its members, improve the climate for cross-sectoral problem solving through its specialized committees and facilitate action projects through its board of directors, general assembly (annual meeting) and informal links with other associations operating in the state, regional, county and local levels. Results will include increased information flow and contacts on new markets, reduced costs and ag/food technologies to and from the grassroots to decision-makers.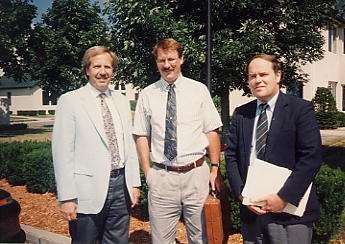 PLANNING GROUP -- While in St. Louis during the last decade of his life, U.S. Senator Jennings Randolph urged the formation of the WV/ABC. Bob Williams (left) of the WV Department of Agriculture and Jim Bostic (center) of the WV Beef Council pause with Nick Hollis (right), president of The Agribusiness Council, after an initial strategy session in Morgantown.


Method of Operation
WV/ABC will achieve its aims working through specialized committees and task forces organized in the annual meeting and action programs (i.e., seminars, trade missions, educational programs and publications). WV/ABC may also act as an educational vehicle for agribusiness to appropriate authorities. WV/ABC will provide cost-efficient contacts and information utilizing newsletters and links to counterpart associations in and outside the state. WV/ABC will build gradually, and not all committees will be operational in the first phase.
At present, most WV/ABC association activity is focused on providing logistical support for the Jennings Randolph Recognition Project (JRRP) in honor of the late U.S. Senator who chaired The Agribusiness Council (ABC) after his retirement from public office. Randolph urged the formation of WV/ABC in 1993 during a staff visit (St. Louis). WV/ABC is acting as an educational vehicle describing Randolph's many legislative contributions to civic agricultural and rural development policy.
WV/ABC is encountering inertia, but continues to provide cost-efficient contacts and information on JRRP and related projects utilizing newsletters and e-mail links to counterpart associations in and outside the state. WV/ABC is building gradually, and not all committees are currently operational.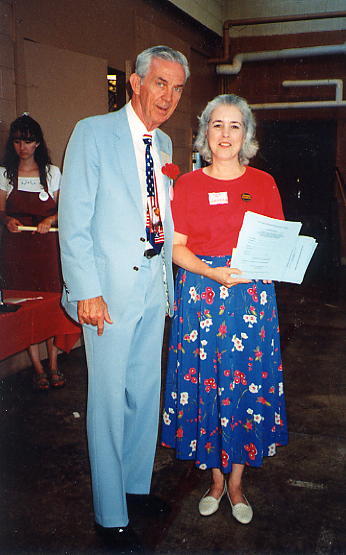 CIVIC OUTREACH--Pat Griffith with Burl O'Dell after speaking on Jennings Randolph at Richwood. WV/ABC has provided logistical support for the numerous heritage presentations around the State.


Future Direction of Activities
WV/ABC's future direction will be consistent with Jennings Randolph's stated concern for
the so-called "forgotten people" and progressive positions aimed at strengthening West Virginia's agro-food economy. Beyond the JRRP, additional WV/ABC programs will be determined by
a steering committee drawn from contributors, enrolled supporters and surveys generated by
e-mail networking and meetings around the state. WV/ABC will be refining the organization's bylaws and statutes in cooperation with interested companies and state agencies. An inaugural meeting will formally establish the WV/ABC after a number of specialized committees develop into cohesive groups (target mid-2001). Specialized committees including Heritage Preservation, International Trade, Agro-Environment, Food Safety, New Ag Technologies, Ag Transport/Distribution, and others are contemplated. WV/ABC has initiated contacts with similar groups and compatible ag networks abroad (including Eastern Europe).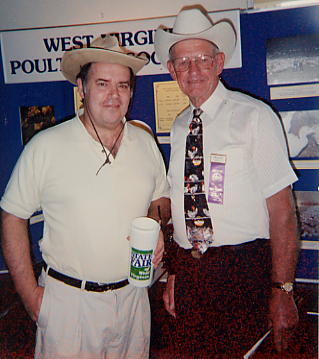 POULTRY SAMPLER -- Nick Hollis joins WV Agriculture Commissioner Gus R. Douglass at West Virginia State Fair poultry exhibit in Lewisburg.


Supporters
WV/ABC is currently supported in its formation phase by voluntary contributions from The Agribusiness Council (ABC) and foundations interested in the state's economic advancement. Initial logistical support provided by West Virginia University and Salem International University has been supplanted by private voluntary support centered in Clarksburg. ABC is providing training/management assistance. It is anticipated that ABC support will decline after WV/ABC becomes fully operational.
Budget
WV/ABC financing is provided through voluntary support from a wide range of sources identified through local meetings and representatives of West Virginia's ag sectors and existing organizations. A final formula based upon annualized turnover and/or total employment may be determined by the board of directors. Grants may be solicited from foundations, banks, and donor agencies - either directly to WV/ABC, or ABC (which has set up a separate account earmarked for WV/ABC). Contributions to ABC are tax-deductible. The WV/ABC also anticipates support from registrations at events and newsletter subscriptions.
West Virginia Agribusiness Council
WVagbiz@aol.com
"Strengthening Agro-Industry's Voice in West Virginia through Association Action"