Jennings Randolph: Aviation's Centurion for Peace
by
Nicholas E. Hollis
Jennings Randolph's love for aviation, reflected in his impressive legislative record as one of the industry's early pioneers, began in his youth when he was nestled in the encircling hills and dense, forested hollows of central West Virginia. Privileged as a child of the founding family of Salem in Harrison County, Randolph nevertheless learned early the importance of transcending the rough edges and isolation of the wilderness. He often climbed the town's water tower and tried to touch the sky with a long pole. In 1912, he took a train with his father to Baltimore for the Democratic National Convention and witnessed the nomination of Woodrow Wilson. He later became fascinated with the potential of the airplane.
As a congressman (WV 2nd District) in the 1930s-40s, Randolph was the foremost advocate among public officials for programs to advance air travel and airport development, key prongs in his efforts to build transportation links for his constituents. His interest had an even more practical side because safer airports and speedier planes translated into greater mobility for him to travel between Washington and his district on a regular basis. He often flew more than once a day, and the airplane made it possible for him to make "roll call vote" obligations as a legislator on Capitol Hill, while meeting with his constituents in the Mountain State (especially in the eastern panhandle).
In 1938, Randolph sponsored the Civil Aeronautics Act (the "Magna Carta" of modern airlines). In subsequent years, he authored legislation leading to the Federal Airport Act, creation of the Civil Air Patrol, the National Air and Space Museum, and National Aviation Day. It was Randolph who led the fight for federal air-marking funds (his amendment providing $100,000 became law), cross-wind landing gear, experimental airmail pickup service, and other important aviation measures. In addition, he was the founder and first president of the Congressional Flying Club. He also sponsored the act that placed aviation education, including voluntary flight training, into the curriculum of high schools in the District of Columbia.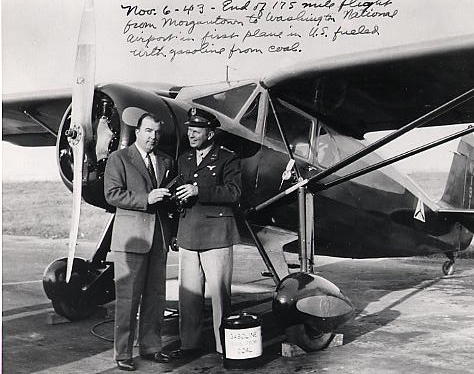 SYNFUELS IN FLIGHT – Rep. Jennings Randolph (left) stands with Major Arthur C. Hyde of the Civil Air Patrol following a 175-mile flight from Morgantown, WV to Washington National Airport. The single-engine Stinson was powered by gasoline derived from coal (November 6, 1943). Randolph fought for renewable fuels and warned against dependence on foreign energy throughout his legislative career.
With the storm clouds of World War II building in the late 1930s, Randolph argued for an aeronautical navy (aircraft carriers) against the mighty battleship lobby. His was a lonely stand, proven tragically prescient on December 7, 1941 at Pearl Harbor – and later in 1942 during America's decisive victory at Midway. Like some of his celebrated ancestors, Randolph believed in technology and "fighting smart" once committed to battle, as an efficient way to win with fewer casualties.
Randolph's remarkable foresight is evidenced is a speech he gave in 1939, elements of which are hauntingly applicable today:
"Ours is not a war-like nation. Our tradition is a search for peace with our neighbors and for an opportunity in our own way to work out our national destiny. Our nation was born of a spirit which offered the oppressed of all the world a haven of refuge. Prejudices and hates of other lands were consumed here in the great melting pot which has given us our distinctive character. Since 1789, this nation has endured as a monument to peace and to democracy, and teeming millions of our continent propose to maintain that monument in the centuries to come.

"Our first duty, therefore, is to assure that we shall always possess the means to defend that monument. On the sands of Kitty Hawk a new means for that defense was given birth, but so also was a new means for attacking our ocean-lapped citadel. So with new weapons of defense we must combat new weapons of attack, the possibilities of which are as yet quite unplumbed. We cannot sit by and permit others to explore those possibilities while our wings grow rusty and our propellers idle. "We must be alert to take every advantage of the air, to fill the heavens with pilots and with planes, to provide the factories and the technicians which we need, to inform our people of the myriad purposed which aeronautics may serve, to encourage them to use and to enjoy the benefits of flight. And with an aeronautical industry thus assured, we may face the future with confidence./1
Upon leaving the House of Representatives in 1947, Randolph became public relations director and assistant to the president at Capital Airlines (later purchased by United Airlines). In 1958, Randolph was returned to Congress, this time to serve as a member of the United States Senate. He continued his work on behalf of aviation by sponsoring the Airport-Airways Development Act that created the Airport Trust Fund and was an active proponent in the expansion of the airport aid program. As author of the Appalachian Regional Development Act, Randolph made certain that special provisions for the development of rural airports were included. Near his alma mater, Salem College (WV), Randolph convened an annual Festival of Flight. Among the participants were luminaries who remembered his pioneering efforts on behalf of aviation: Jimmy Doolittle, Hap Arnold, John Glenn, Juan Trippe, C.R. Smith, and Curtis LeMay. Many others were guest speakers.
In 1984, as chairman of the Agri-Energy Roundtable (AER), Randolph proposed the creation of a "travel pool" whereby airlines provided delegates from less developed countries with complimentary or discounted passage to international conferences. In the following year, the United Nations accredited AER as a nongovernmental organization (NGO). Randolph had blended his love for aviation with a practical way to further internationalize the Roundtable, thereby rising above the petty politics and squabbling of Washington – and resistance from traditional donors – to fashion AER as unique forum on the world stage.
At the end of his international meetings, he often quoted from Locksley Hall, written by Alfred, Lord Tennyson, in 1842:
"For I dipt into the future, far as human eye could see,
Saw the Vision of the world, and all the wonder that would be;
Saw the heavens fill with commerce, argosies of magic sails,
Pilots of the purple twilight, dropping down with costly bales;
Heard the heavens fill with shouting, and there rain'd a ghastly dew
From the nations' airy navies grappling in the central blue;
Far along the worldwide whisper of the south-wind rushing warm,
With the standards of the peoples plunging thro' the thunder storm;
Till the war-drum throbb'd no longer, and the battle flags were furl'd
In the Parliament of man, the Federation of the world."
As the centennial year marking Orville and Wilbur Wright's first flight at Kitty Hawk approaches (2003), it is timely to recall old "Jenks" and his pioneering efforts. For Jennings Randolph, aviation was about freedom, adventure, and bringing people and cultures together in the quest for peace and understanding.
---
Adapted from remarks by Nicholas E. Hollis at National Air and Space Museum (July 10, 2002). Mr. Hollis is director of the Jennings Randolph Recognition Project (JRRP).
ADDITIONAL READINGS:
Randolph, J. "Building Main Streets for America's Aviation," Aviation (January 1945).
Ponte, J. "Aviation's Legislative Pioneer," Airline Pilot (December 1978).
1/ "Aviation and American Welfare," remarks by Rep. Jennings Randolph (D-WV), National Aviation Forum (February 20, 1939), Mayflower Hotel, Washington, DC.